Raden Saleh Sjarief Bustaman (Terboyo ca. 1810 – Buitenzorg 1880)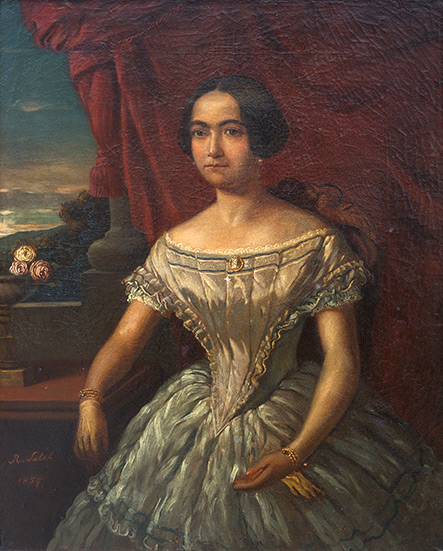 Portrait of Elisabeth Sophia Catharina Ament, daughter of Cirebon governor Tjalling Ament and married to Gustave Adolph Boutmy
Signed and dated lower left 'Raden Saleh 1857'
Oil on canvas, 57×47 cm
Lit.: Marie-Odette Scalliet, Le retour du fils prodige: Raden Saleh à Java (1851-1858) in: Archipel 2008 Volume 76 Num. 1 , p.171, 173 rep.
Javanese artist
The 19-th Century Javanese artist Raden Saleh is without any doubt the most famous painter from the Indian Archipelago. His work and career were unique in his time. His importance for the development of Indonesian art cannot be overestimated.
Raden Saleh was born of noble family at the village of Terboyo near Semarang, Java. At an early age he became acquainted with Jhr. L.S.R. van der Capellen, resident of the Preanger Regencies, who introduced him to the Belgian painter A.J.J. Payen. Payen became his first teacher.
Trained in Europe
By mediation of his influential patrons, Saleh was given the opportunity to go to Holland in 1829 to improve his painting skills. He became a pupil of the renowned painter of historical scenes and portraits Cornelis Kruseman and later of the romantic landscape painter Andries Schelfhout. Raden Saleh was the first Javanese (Indonesian) artist to be trained in Europe and because of his personality and skills he earned tremendous success.
In 1839 he went to Europe to complete his education as a painter and stayed for over ten years. With his noble stature, his gracious manners and his oriental looks that were hitherto unknown, he was received at various European courts where he was commissioned with portraits and landscape paintings. He became friends with Ernst I, Grand Duke of Saxen-Coburg Gotha, with whom he stayed for no less than five years. When Ernst I died in 1844, Raden Saleh left for France, where he became an honoured guest at the Paris Salons.
Raden Saleh returned to his homeland
In 1851 Raden Saleh returned to his homeland. By then he was an artist of great fame, knighted as 'Ridder in de orde van Eikenkroon' and bearer of the title 'Schilder des Konings' (Painter of the King). He settled at a large estate on the Ci Li Wung-river owned by his wife's father where he built a villa with palatial allure in the Neo Gothic style he got to know in Europe. The impressive manor is still in existence and is known as the Cikini hospital, Jakarta.
In his stylish studio he received the rich and famous of his time to get their portraits painted. One of them was Mrs Elisabeth Boutmy-Ament, wife of Gustave Adolph Boutmy, assistant-governor (assistent-resident) of Batavian surroundings (Bataviasche ommelanden) and daughter of Tjalling Ament, governor (resident) of Cirebon, Java.
The portrait merges portrait painting in the 19th Century tradition represented by Saleh's tutor Cornelis Kruseman and the warm, oriental palette establishing the unmistakably Indonesian character of the work of its famous maker.